New Publication
Open Data Policy Lab Releases New Guide Establishing the Case for Data Collaboration and Re-Use
This worksheet helps data stewards, in both the private and public sectors, identify incentives and benefits of providing access to their data for re-use in the public good and create a business case.
Posted on 1st of December 2022 by Lisa Talia Moretti
Providing access to data to facilitate responsible re-use can help improve governance and public services; accelerate innovation through better science and the discovery of new insights; and empower citizens to make more informed decisions.
While the economic and societal value propositions for access and re-use are well-documented, many organizations–especially within the private sector—remain stuck—in part because they lack a business case for doing so. Up until now, no tool existed that organizations could use to identify and articulate compelling business cases for data re-use. In light of recent cuts made to data for good, ethics and responsible innovation programmes and teams due to an uncertain economy, it is more important than ever to launch effective tools that can support and encourage data initiatives that champion collaboration and re-use.
In 2021, The Open Data Policy Lab published the 9Rs Framework, a method for describing and identifying the business case–documented rationale–for data reuse for the public good. It is divided into three kinds of return on investment and includes:
ROI Case #1: Increasing knowledge and Insights.

This business case can include:

Reciprocal exchanges

;

Rectifying errors and improving data quality;

Research and insights

, and

Reproducibility.
ROI Case #2: Improving Brand Equity.

This case can be about improving an organization's

Reputation

;

Responsibility and philanthropy

; or

Retaining and recruiting talent

.
ROI Case #3: Establishing a License to Operate.

This case can be about issues of

Regulatory compliance;

and

Revenue generation.
After engaging with The GovLab's Data Steward community and other data professionals, the Open Data Policy Lab saw an opportunity to provide data stewards with guidance on how to better realize, identify, and articulate these cases. Today, in response to this need, The Open Data Policy Lab is pleased to announce the release of a worksheet to accompany the 9Rs Framework.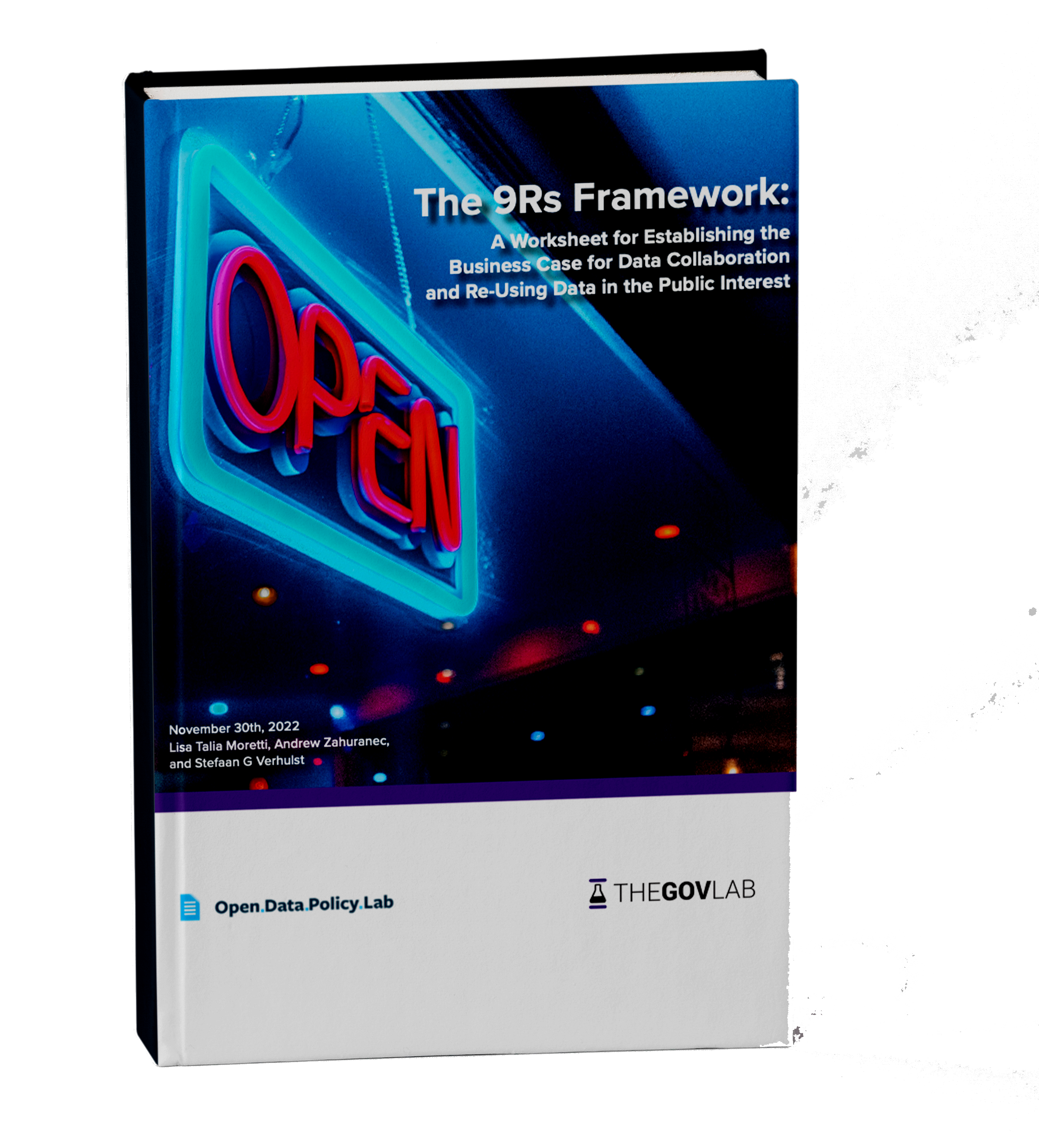 The new worksheet helps data stewards evaluate solicitations for accessing data not only in terms of societal impact but also in terms of alignment with organizational purpose, priorities, and values. The 9Rs Framework, and associated worksheet, can also help data stewards to become more strategic in identifying opportunities and partners that can help establish win-win data collaboratives.
The Open Data Policy Lab is happy to schedule a meeting with organizations to help them identify which business case fits their circumstances and how they might act on it. Read the full worksheet here.
If you have thoughts and reflections that you would like to share or you would like to meet with the Open Data Policy team, please reach out to us on [email protected].